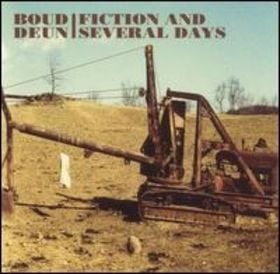 Fiction Days (Made in USA)
Apenas R$ 15,00
.
MADE IN USA
.
Studio Album, released in 1995

Songs / Tracks Listing
1. Sleeping Again
2. Continued
3. Making Circles
4. This Is
5. Swimming For Help
6. Smoking In Japan
7. Calvin's Lost His Head Again
8. The Drift
9. Drake #7
10. Boud Deun
.
Boud Deun debuted with this awesome record, which was to become just the first of a series of stunning offerings. Nowadays they remain one of the most sorely missed jazz rock acts of the 90s.
From they one their style was very much based on a mix of 71-73 era Mahavishnu Orchestra's mystical impetus, Red-era KC's neurotic energy, and Dixie Dreggs' playful magic; once this mixture is realized, add some of underground rock muscular power, and what you get is a musical strategy full of fire and skill.
The proficiency and enthusiasm of every individual member allows them to interplay with awesome precision, creating enough room for inspired improvisation.
The constant duels and dialogues between the guitar and the violin are amazing and captivating, and the solid rhythm section shows us a bassist capable of coming occasionally to the fore in order to provide some fiery bass lines, while the drummer incarnates Bruford's finesse and Cobham's excellence in his single persona.
'Sleeping Again', 'The Drift', and the band's namesake closing track are some of mi favs in this album. 'Continued' and 'Swimming for Help' are also worth mentioning for the great amounts of storming energy instilled in them.
All in all, the material is impressive, keeping a perfect sense of coherence in their musical statement.
Every record by Boud Deun is a definite must for jazz collectors, and generally speaking, for all lovers of adventurous and well-crafted music.
So why not give it the perfect rating? I'm saving it for their spleadorous final effort 'The Stolen Bicycle'.